Piano Sonata no.1, Latitude and four piano pieces

download:
full package
– MP3 | FLAC
(48kHz/24bit)

image: PNG set |
A3 poster |
CD insert card
& label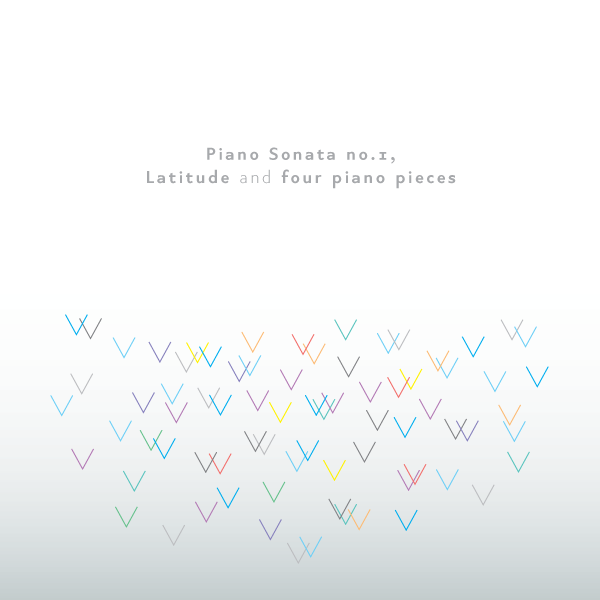 Piano Sonata no.1
01 movement one
02 movement two
03 movement three
04 movement four

05 Arbitrary Projection
06 Predictive Conversation
07 Corrupting Correction
08 Elemental Mapping

09 Latitude for four pianos

Piano Sonata no.1 was composed under my imagery of avant-garde music since 100 years ago; if it is defined that avant-garde music began after world war 1. the four movements were all fixed to 100 bars in four-four time, and all played in 100bpm.
Latitude for four pianos was composed on the assumption that setting two pianos on the each edge of stage, playing them with the damper pedals on, and setting the other two pianos on the center of stage, playing them with the damper pedals off. this is based on my old idea around 1980. the four pianos are supposed to be softly played with transposing each simple pattern in 60bpm.
Arbitrary Projection, Predictive Conversation, Corrupting Correction and Elemental Mapping was composed with some motives and their variations that were made by "copy and paste then edit" technique.
all pieces were composed with pcm piano samples and the sequencer of Apple Logic Pro X. the used piano sample is Bösendorfer for Piano Sonata no.1, Steinway for the other pieces.




composed and recorded by Yamaoka Yasuhiro February – October 2018. ©2018 Yamaoka Yasuhiro. YOMusic YOR-38. All rights reserved.
release date: 21.10.18